These tutorials build script files from scratch that, when executed, construct, run and process the results of, an FEHM simulation. One way to enjoy this tutorial, is create a new script file and copy these commands across as you go through them. The script can be executed at any stage within a python terminal using execfile('myScript.py') so that you can inspect the variables and objects, or just generally mess around in python.
Within a tutorial, any code commands given are assumed to be appended to the end of a single PyFEHM script for that tutorial. A complete python script for each tutorial should have been received with PyFEHM.
Dynamic simulation monitoring
In some instances, the final simulation time for a model is specified as some arbitrarily large value. This is to ensure that the model doesn't finish before the behaviour we are trying to model has. However, if we could observe the simulation as it proceeded, we could monitor for an arbitrary finish criterion and terminate the process when it is satisfied.
In this tutorial, we will demonstrate how to specify an arbitrary kill condition for a simulation - in this case, when the temperature at a particular node drops below a given value.
As in the previous tutorial, we will use as a basis the model developed in tutorial 1.
Defining a kill condition
First, the simulation time is doubled to 20 days.
dat.tf=20.
The kill condition is defined as a function with particular input and return conditions. The function must accept a single input, an fdata object, and return True or False depending on whether the condition has been satisfied.
This function is passed to the until argument in the run() method when the simulation is executed. In operation, the function is passed the fdata instance from which run() is called. PyFEHM monitors for output files containing information for a restart simulation that are periodically written by FEHM; these are parsed and the information made available at the nodal level. For example, nodal temperatures are available through the fnode.T attribute inside the function.
First define the function
def kill_condition(dat):
We want to set a kill condition when the node at position [7,7,9] has a temperature less than 50degC. First we need to locate that node
This node's state attributes are updated at each time step during the simulation. Thus, all that is required is for us to test the kill condition
Now run the simulation with the modified run() method
dat.run(root+'_INPUT.dat',until=kill_condition)
This simulation now finishes after 5 time steps or approximately 13 days, instead of the 20 days specified as the end of the simulation.
Paraview visualisation
PyFEHM supports 3-D visualisation of model and output data in the software Paraview (www.paraview.org). Paraview must be installed ahead of time before For instance, the user can visualise various information on the model grid, e.g., material properties like permeability or porosity, zone information, or output data such as temperatures and pressures. Once loaded in Paraview, these data can be sliced, contoured and otherwise manipulated using Paraview's built-in tools.
An instance of Paraview is initialised by calling the paraview() method, either from an fdata or fcontour object. Behind the scenes, PyFEHM formats and writes out grid, model and output data in the VTK format, and then subsequently loads these files into Paraview.
If a sequence of contour output data files are loaded in, then the user can optionally request two derived variables types. By passing the paraview() method diff=True, variable differences are created, e.g., the new variable T_diff will plot the change in temperature from its initial simulation value. By passing time_derivative=True, time derivatives for each variable will be calculated.
PyFEHM will assume that paraview.exe is available for command line execution. The user can ensure this is the case by including the folder containing the paraview executable in their PATH environment variable. Alternatively, the user can pass exe='/path/to/paraview.exe' directly to the paraview() method, or set this path in the config file.
Using the Paraview method
To get started, in tutorial1.py, uncomment the paraview command near the end of the script
Note that we have omitted the exe argument as it is expected that paraview.exe is available at the command line or otherwise defined in the config file. Because paraview is a method of fdata, it has access to all the zone, permeability, etc. information defined in that object. However, it has no knowledge of simulation output that is encapsulated in the fcontour object c defined in the previous command. Therefore, this object has to be explicitly passed to paraview via contour=c.
Running the script tutorial1.py, you should now see an instance of Paraview opened automatically (once the simulation has concluded). There is a short period of activity after Paraview has been opened that it is busy loading files, creating layers etc. - after this has finished you should see something like the figure below.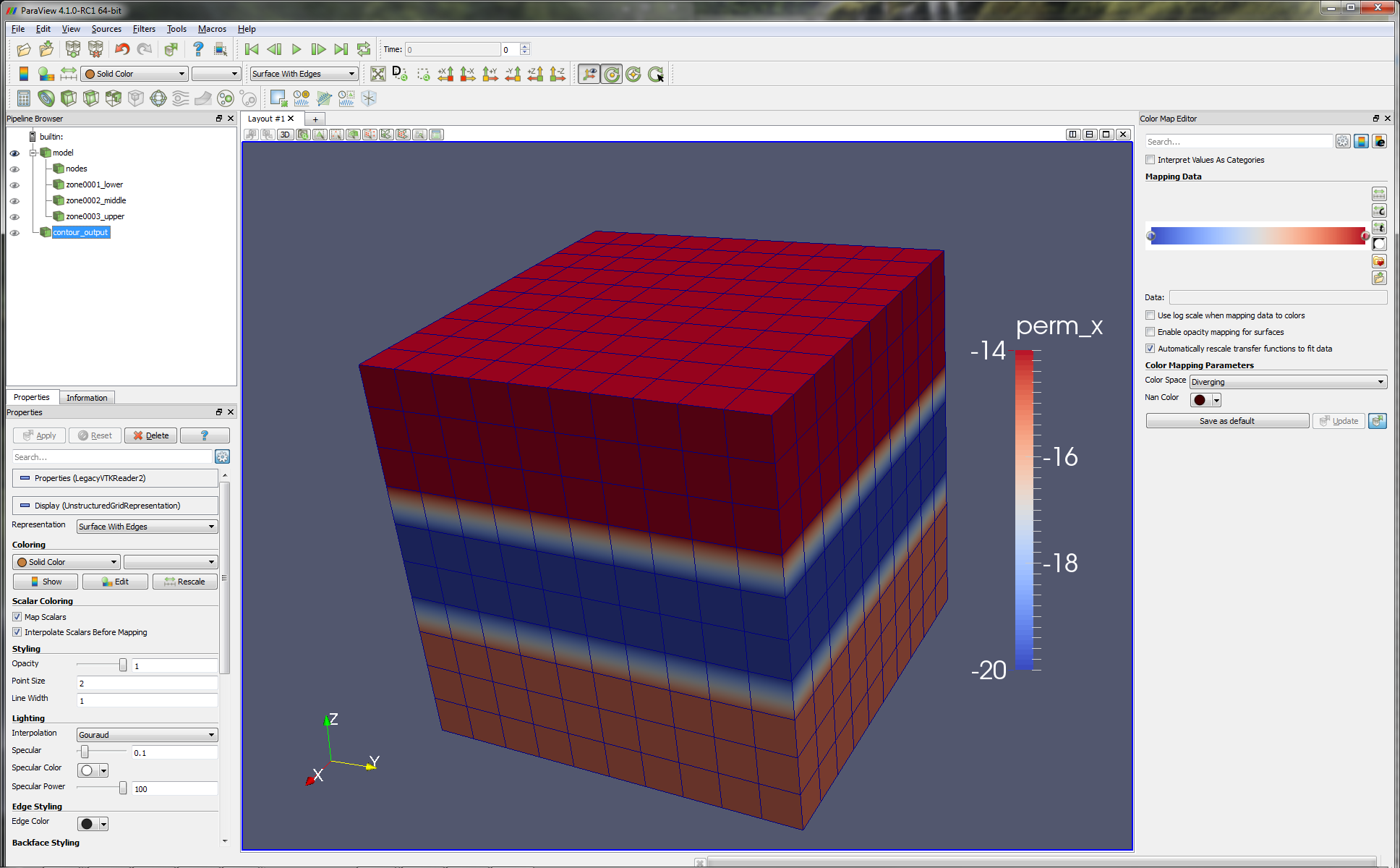 Model information
In the centre panel, a visualisation of the model is displayed, in this case contouring x permeability. A low permeability zone in the centre of the model, defined on the line
dat.zone[2].permeability=kmid
is evident, as well as the regular grid spacing, defined on the lines
x=np.linspace(0,10,11)
dat.grid.make(root+'_GRID.inp',x=x,y=x,z=x)
The top left panel contains a branching structure with members model and contour_output; these allow us to switch in and out various model information. For instance, with model selected use the drop-down menu to select zone_996_YMAX and note how the colouration changes to highlight the location of this zone.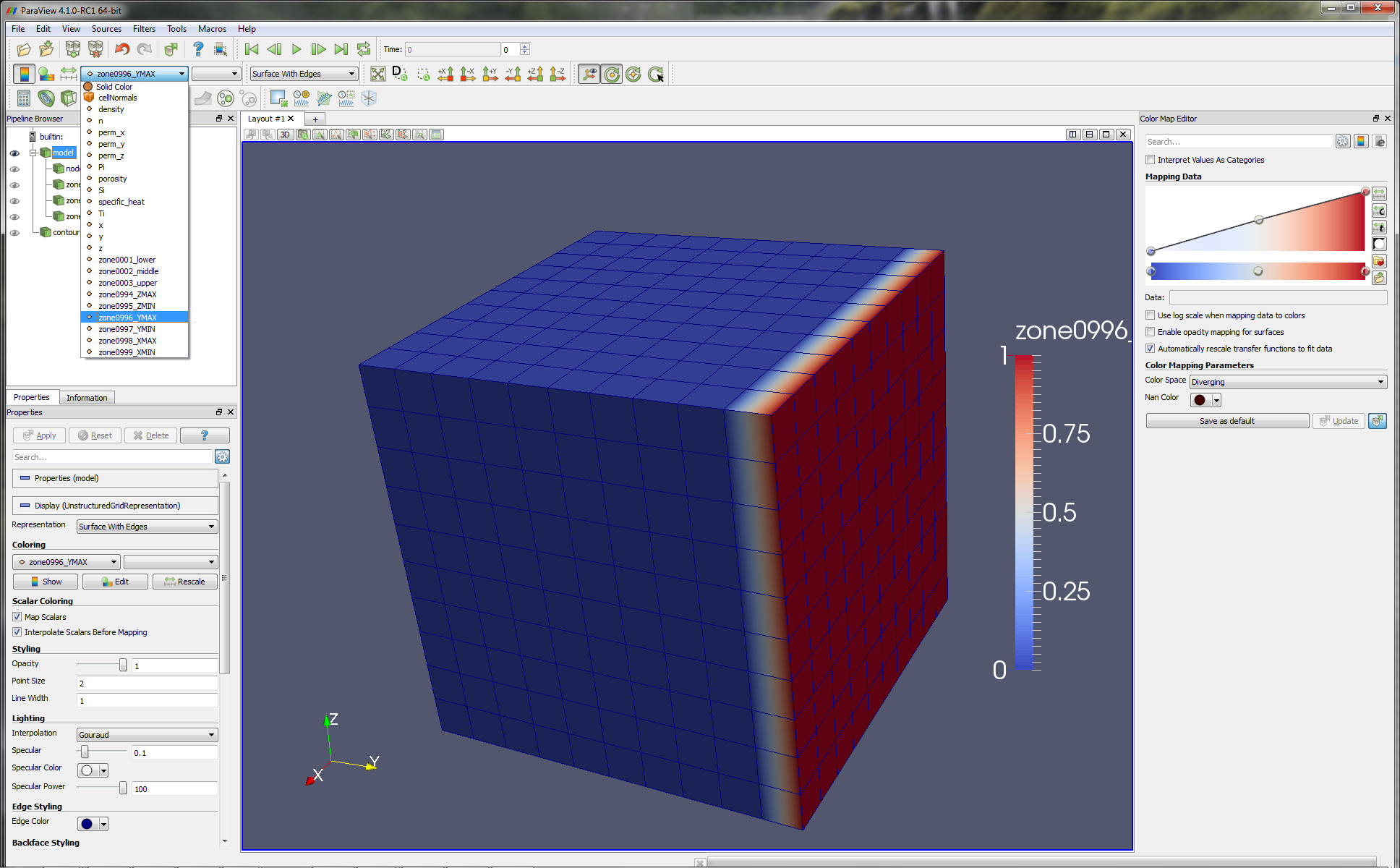 This type of visualisation can be a quick means of checking that zones a user has defined in a PyFEHM script (and are consequently represented in FEHM) actually correspond to the region of the model they have in mind. The paraview method does not require a simulation to have actually been executed before the model can be visualised; the method can be called on any 'half-finished' fdata object.
Within the model branch, you can choose to switch on node visualisation (by toggling the 'eye' symbol next to nodes) or just certain zones. By default, only user-defined zones are included here; however, visualisations for the boundary zones can be obtained by passing zones='all' when calling the paraview method.
Below we show the upper zone and nodes superimposed on a distribution of y permeability. In this way, it is evident that permeability is in some way linked to the definition of the upper zone (well obviously!) - in more complex simulations, this can be a good way to keep track of what material properties are being assigned where.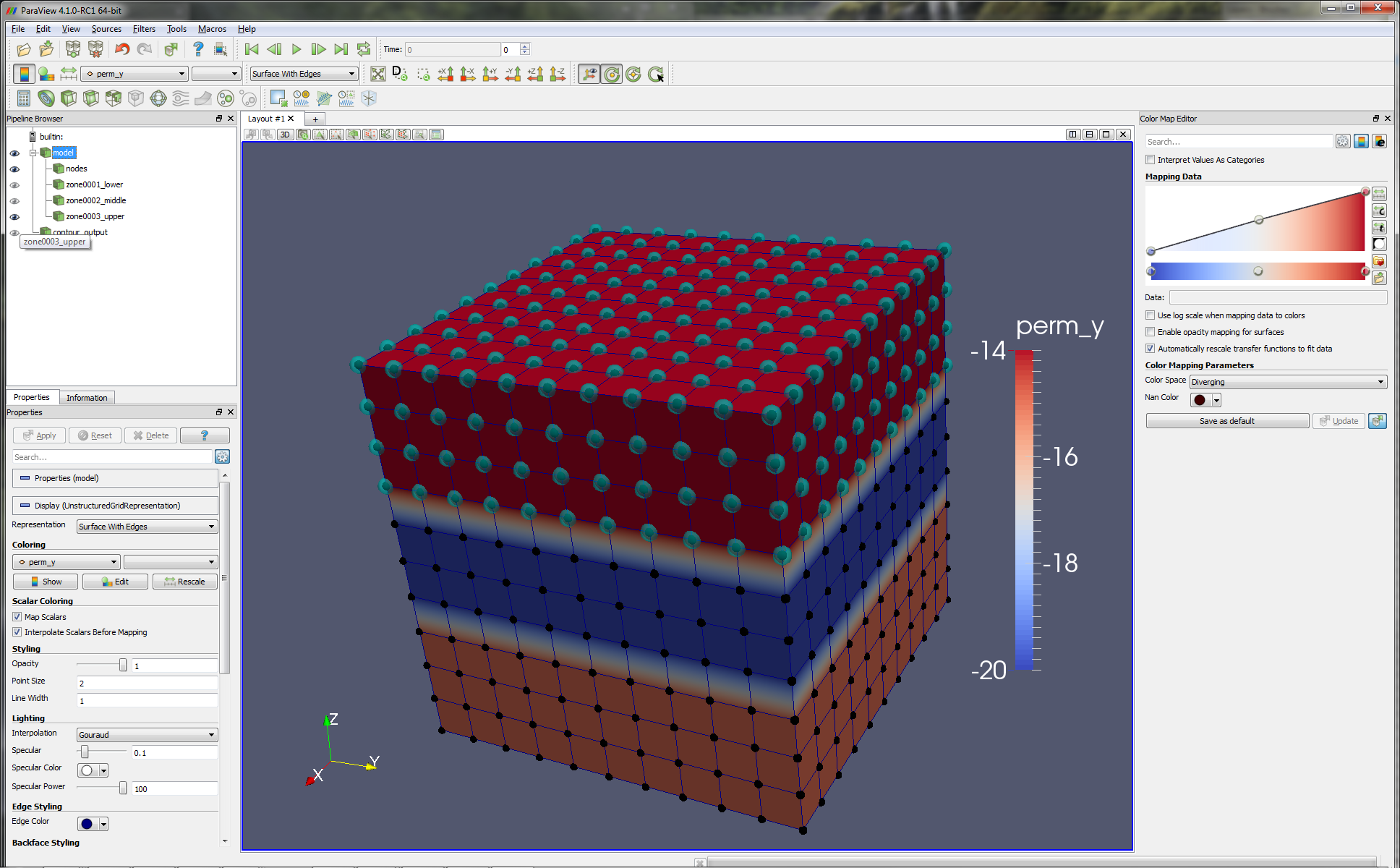 Contour output
The branch contour_output contains information from the contour object that we passed to paraview. This includes differenced or time derivative variables that may have been created by passing the relevant arguments to paraview. The model and contour_output branches are not mutually exclusive. For example, one could superimpose a zone or node visualisation from model on, say, temperature distributions in contour_output to get a sense of any correspondence between these items.
Turning off the model branch, and turning on contour_output (again using the 'eye' toggles), we are presented with a view of model pressures at the end of the simulation.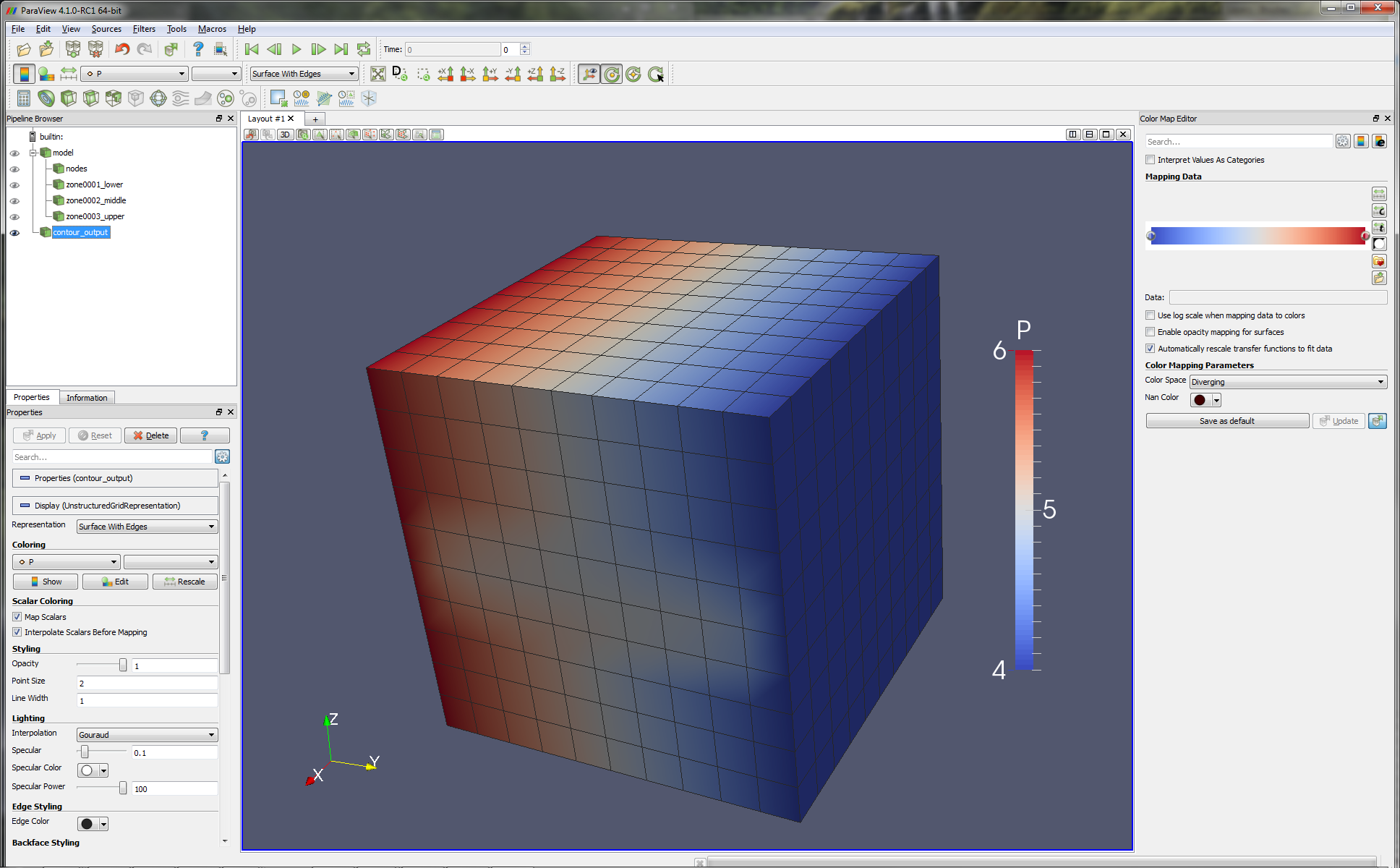 In this view, it is clear that the horizontal pressure gradient has been perturbed by the presence of the low permeability zone in the centre of the model.
We can look at other variables by selecting the model branch and using the same drop-down menu we earlier used to inspect material properties. Note that, in this menu, are the additional differenced and time derivative variables we requested to be defined.
Paraview script
Installation of PyFEHM provides access to the python script 'fehm_paraview.py'. This script operates as an executable that accepts command line arguments and opens a Paraview visualisation of a particular FEHM simulation.
fehm_paraview.py resides in the /Scripts folder of your Python installation. If /Scripts is included in the PATH environment variable, and the default program for *.py files is Python (on Windows), then this script can be called as an executable.
In its simplest use, fehm_paraview.py can be called without arguments in any directory containing an 'fehmn.files' FEHM control file. For example, in running the script 'tutorial1.py', we created the subdirectory /tut1, which contains various simulation files, including 'fehmn.files' for that simulation. Navigate to this directory and at the command line execute
..\\pyfehm\\tutorials\\tut1>fehm_paraview.py
this will cause an instance of Paraview to be opened and initialised with all model, grid and contour output data. For more options on command line use of fehm_paraview.py, call this script with the --help argument
fehm_paraview.py --help
Diagnostic window
FEHM supplies a stream of information to the terminal when a simulation is running. For instance, time step size, number, elapsed time, mass and energy balances, residuals and some nodal information can all be reported. Often it may be useful to track and plot these information in time, particularly for long simulations with many time steps.
PyFEHM provides a diagnostic tool that both plots these data in real time and dumps the output information in column format to several auxiliary *.dgs files. Additional information is provided about 'Largest N-R' corrections that occur before time step cutbacks and provide and indication of which regions of the model FEHM is struggling to achieve convergence.
As for the previous section, the PyFEHM diagnostic tool will be demonstrated by modifying and running tutorial1.py. In this script, uncomment two lines before the run method
dat.tf=100.
dat.iter['machine_tolerance_TMCH']=-0.5e-5
The increased run time provides a better demo and the lower tolerance allows us to demonstrate time step cutbacks.
As in tutorial 1, the simulation is performed by calling the run method, but this time modified to pass diagnostic=True
dat.run(root+'_INPUT.dat',diagnostic=True)
As the simulation executes, a dialogue window will open with several empty ploting axes. These are populated as the simulation proceeds with information taken from the output stream.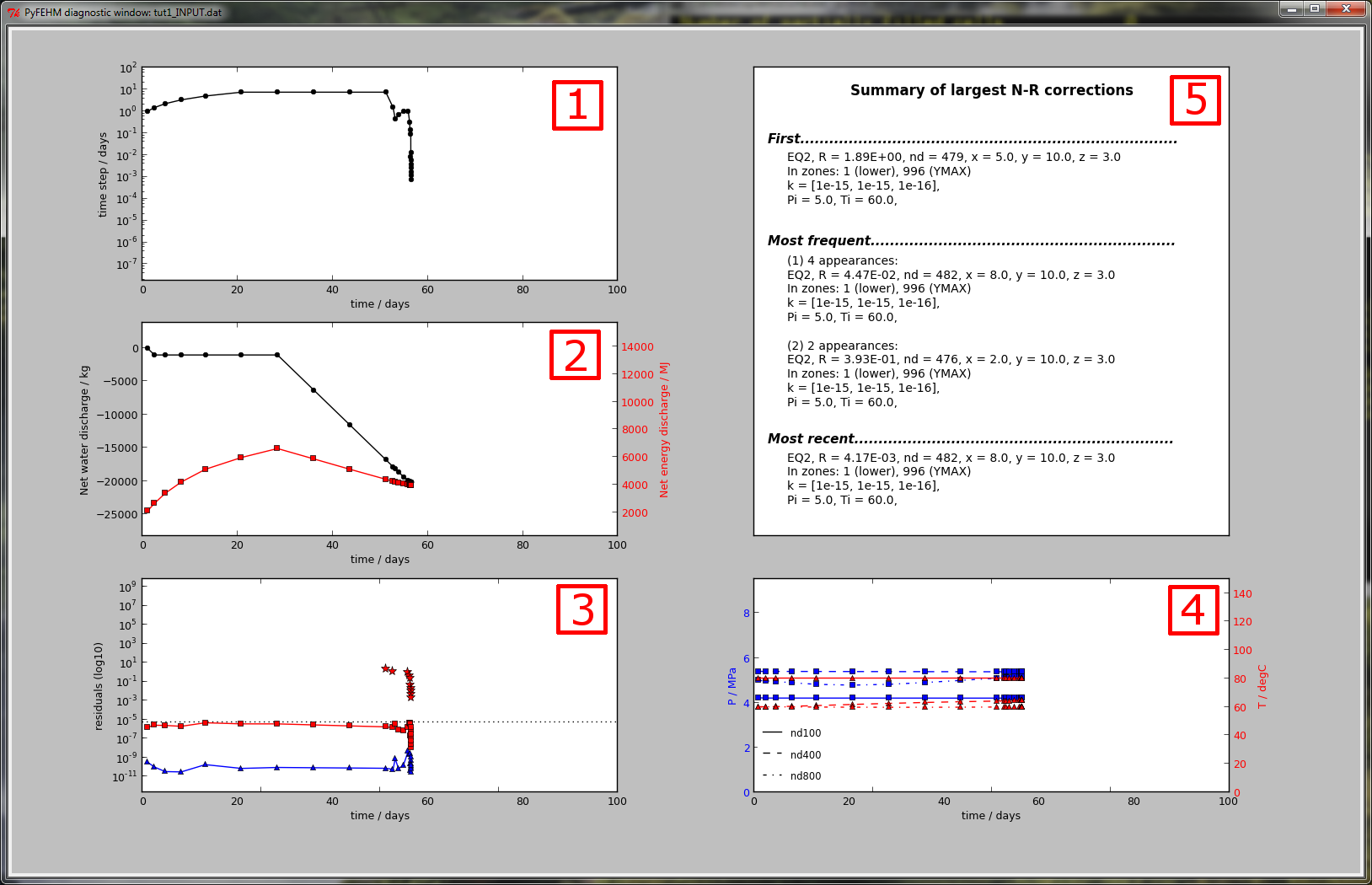 In the figure above, there are five boxes, numbered 1 through 5, containing different information. Each of these is explained below:
Time step size on a log-plot. Both the x and y axes will readjust dynamically depending on the range of data. If this curve starts trending down, it is an indication of time step cutbacks and convergence issues.

Net water (black) and energy (red) discharge. Appropriate y-scale is in the corresponding color.

Residuals on a log-scale for the each governing equation: mass (blue) and energy (red) balance, and, if running with the stress or CO2 modules, the static-force or CO2 balance (black). A dotted line shows the residual tolerance; if the residual exceeds this line, FEHM will cutback the time step to achieve better convergence.

Where Largest N-R corrections occur and the time-step is cutback, star symbols in the appropriate color are plotted, e.g., in the figure above, cutbacks occurred when the energy balance (red) residual exceeded the tolerance, hence red stars are plotted.

Node properties. FEHM outputs temperature, pressure and flow information to the screen for history nodes in dat.hist.nodelist. Up to the first four of these are plotted using different line styles (see legend). The first two variables defined in dat.hist.variablesare plotted on the two axes.

When Largest N-R corrections occur, it is useful to know what node they occurred at, what its material properties are, what zone it belongs in etc. This information is provided in Box 5, including (i) the first node to produce a Largest N-R cutback, (ii) the two most-frequent nodes that produced cutbacks, and (iii) the most-recent node to produce a cutback. The final two update as the simulation proceeds.
The diagnostic window has several interactive properties. It can be maximised/minimised, resized and moved around the screen. It can also be closed without interrupting the simulation. However, run method that produces the diagnostic window will not return until the window is closed; scripts will pause at the end of a simulation until the user intervenes.
Output files
In addition to visualising this information in the diagnostic window, PyFEHM writes the information in delimited format to three output files, named `*_convergence.dgs', `*_NR.dgs' and `*_node.dgs'. Alternatively, these output files can be produced by reading an FEHM '*.outp' file (which contains the same terminal stream) using the process_output function.
fdata.process_output(filename, input=None, grid=None, hide=False, silent=False, write=True)

Runs an FEHM *.outp file through the diagnostic tool. Writes output files containing simulation balance, convergence, time stepping information.

Parameters:

filename (str) – Path to the *.outp file.
input (str) – Path to corresponding FEHM input file .
grid (str) – Path to corresponding FEHM grid file.
hide (bool) – Suppress diagnostic window (default False).
silent (bool) – Suppress output to the screen (default False).
write (bool) – Write output files (default True).
Diagnostic script
Similar to Paraview visualisation, a script is supplied on installation for command line execution of the diagnostic tool. This script should precede an FEHM executable call that would otherwise execute an FEHM simulation. For example, if the user has prepared a directory containing the control file 'fehmn.files', with directions to an FEHM input and grid file, then an FEHM simulation would be started by typing
tutorials\tut1>fehm.exe
at the command line (presuming that 'fehm.exe' is in the PATH). To perform the same simulation with a diagnostic window, simply precede the executable with 'diagnose.py'
tutorials\tut1>diagnose.py fehm.exe
This will cause the simulation to be run through PyFEHM and a diagnostic window to be opened.
Additional instructions on making installed Python scripts available at the command line can be found in the previous section on Paraview visualisation.